Back in November 2016, I found out about a ridiculous airline deal happening through Reddit. Roundtrip tickets from Atlanta to many places in Europe were between $400 and $600! As much as I wanted to go back to Norway and maybe never come back, I figured I should make the most of the deal by going the farthest away possible for the least amount of money, which put me right at Croatia - a country I didn't honestly know too much about. Not totally believing the price, I went ahead and bought the $420 roundtrip tickets and thought I'd just figure it out later. April 2017 seemed forever away!
Endless, meticulous research and planning ahead is just about my favorite part of traveling. Growing up in a tourist town, I have a very low tolerance for participation in any kind of tourist-ing. The combination of traveling solo and totally rejecting packaged tours makes planning for a trip much more complicated, but absolutely worth it. With great help from a colleague's colleague and now friend, I was able to put together one of my favorite trips that I've ever taken! In this article is everything I learned and can recommend!
Some basics
Language
Just about everyone speaks fantastic English, particularly young people. Of course, learning some fundamentals of Croatian will get you a bit farther. The most useful word is "thank you" - hvala, pronounced 'huh-vah-la and "dobar dan" ('doh-bar dan) is a nice greeting.
Food
Fresh. Everything is fresh. Fresh fish, fresh herbs, fresh veggies. My Ston Airbnb hosts fed me multiple dinners of foraged vegetables and fish bought just an hour before. However, you'll find that the cuisine is pretty monotonous across the country. You won't be missing out by not eating out all the time and it can be pretty pricey. There's not much of a street food culture, though you'll be able to pick up some quick and cheap eats of pizza in most Old Towns. Otherwise, things are much slower paced eating at patio restaurants and cafes. Gelato abounds. You'll find grocery stores have a disappointing assortment of fresh produce, but you'll be able to scrounge something up if you're cooking in.
Weather
Of course this all depends on the time of year that you go, but it will likely rain at some point. I only point this out because many of the Old Towns in the cities you'll visit have smooth, worn down limestone cobbles and pavings. These are incredibly slick when wet, so make sure your shoes have a good tread!
Currency
Cash is king. Many tours, shops, and even restaurants preferred you to pay in cash. I had no problem with my VISA at many restaurants and even AMEX was accepted at many places. Having a good chunk of Croatian kuna in my wallet came in handy more than a few times. Euros are rarely accepted.
Mobile use
If you have an unlocked phone, you can by a Croatian SIM card in what was the BEST SIM card experience I've had anywhere. There are, in fact, 7 and 10 day tourist cards that you can buy at any post office office, gas station, or the ubiquitous TISAK newspaper and snack stands. If you're going during the high season, you may need to go to a couple of places to find them in stock. For about $10, you get 20gigs of LTE data (after that, it's throttled) and some number of free minutes and texts to Croatian numbers. You'll really appreciate having data for GPS navigation.
Find this at any gas station, Tisak stand, or post office
WiFi
I found cafe and tourist center WiFi to be comparatively spotty and less reliable, as compared to the rest of Europe. I really recommend getting a SIM card.
Rent a car
There are lots of local rental places, but you may consider an international chain (e.g. Hertz) if 1) you want to rent an automatic transmission car, and 2) will be driving it a far distance and returning to a different city. The roads are well paved, well marked, and incredibly super fun to drive. Driving is on the right side of the road.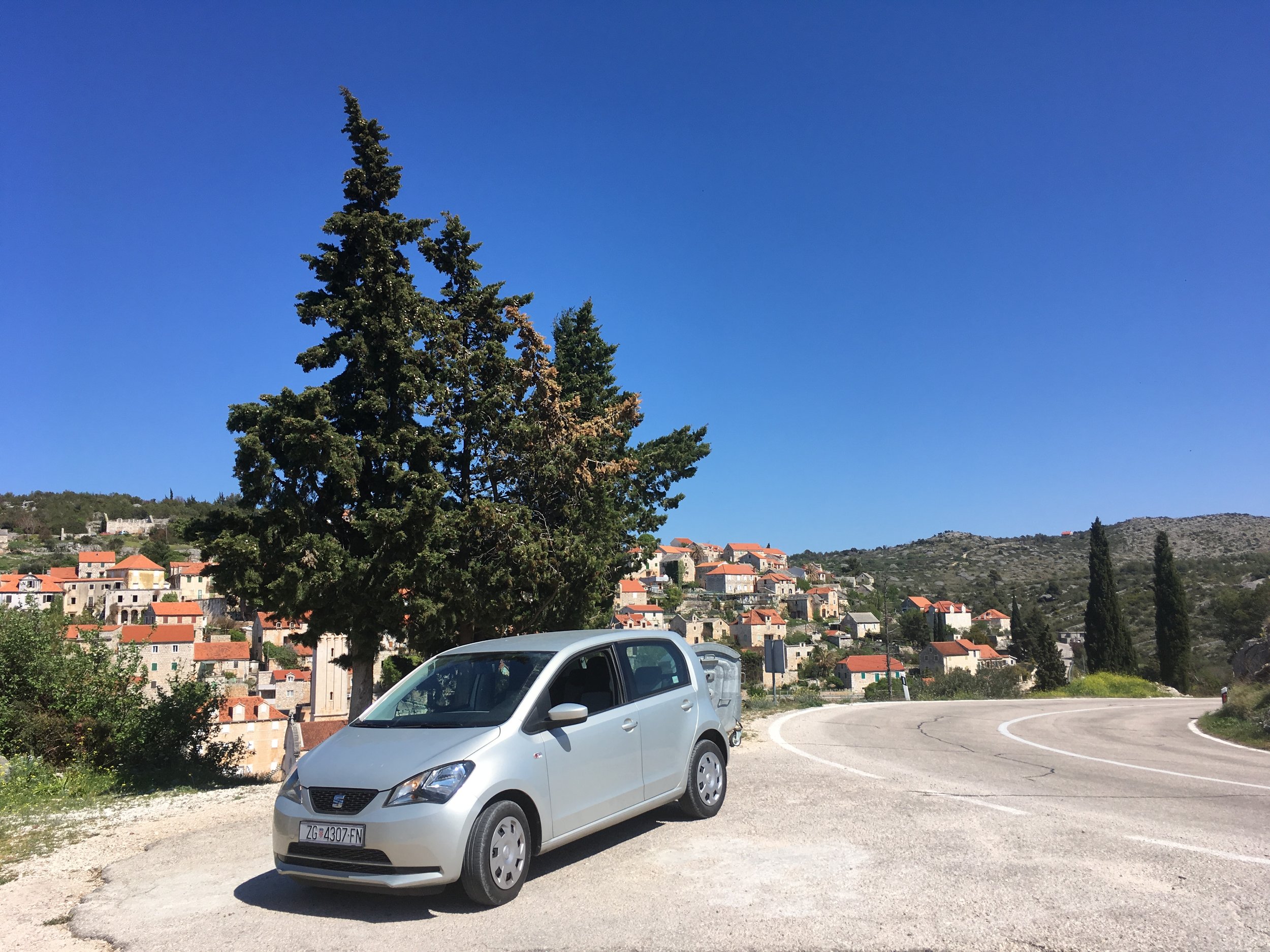 Even this gutless, Spanish smartcar was loads of fun to drive around Croatia
Here's an itinerary I recommend:
Starting with...
Dubrovnik - the Jewel of the Adriatic
Though Zagreb just completed a beautiful new airport at the end of March 2017, it's most likely you'll find flight deals to the southern-most major city of Dubrovnik. The airport lies southeast of the Old Town a 20-30 minute scenic bus ride away. For about $6 USD (one way) or $10 USD (return), you can hop on one of Atlas' nice charter buses to be dropped off at the Pile Gate bus stop near the Old Town. A taxi just one way is about $40USD, the bus is really your best bet!
Atlas times its bus schedule by arriving flights, so you'll have a bus waiting for you outside the airport for arrivals and buses leaving for the airport from the Old Town are timed with airport departures, as well (find a schedule here). If you want a great view on the way into town, sit on the left side of the bus and preferably up front over the driver if you can. The route to Dubrovnik is down a winding cliff-side road, which - while well-made and not all that narrow - is maybe not a great view for those squeamish about heights.
The Old Town of Dubrovnik is quite small and most everything can be seen in a full day. Depending on the height of the tourist season you're traveling in, it could be completely packed or relatively empty. Regardless, I recommend walking the City Walls first thing in the morning right as they open. Not an hour after they open - immediately as they open. I think this is generally the #1 piece of advice I can give about visiting any popular attraction in Croatia. Not only will you have the wall to yourself before the hordes of organized tour groups or - worse - cruise ships descend, but you'll walk before the heat of the day. Even during April when the high temperature was barely in the 70s, the dry Mediterranean weather made me feel like I was roasting.
There are audio tours on the App Store that you can download to learn more about the wall as you walk, which is a cheaper option than renting one from the ticket kiosk and absolutely adds a lot of value to the walk so you can understand what you're looking at and the tons of history that's steeped in every face of the wall. Walking the wall can take anywhere between 2 and 4 hours, depending on how well you can resist taking photos of every incredible view you're afforded as you make your way around. There are also small cafes and shops along the wall walk that you can stop in to look at art, have a cappuccino, or fresh juice. You're able to exit the wall in a few places, and return to it later if you like (though it's only going to get busier as the day goes on). Have your wall ticket handy as you go around. It will be scanned periodically and you'll need it to get back on the wall if you leave it. All wall walking follows the same counter-clockwise direction and tickets can only be bought near the Maritime Museum on the east most side of the Old Town. This is mere steps from the Airbnb I will recommend!
If you're interested in taking a tour - anything from a glass-bottom kayak trip to a Game of Thrones walking tour - you'll find all the information you need at the tourist information office by the Pile Gate (west gate to the city, where the airport shuttle drops off) and from the various people hawking tours on the sidewalk. Though not a tour person, I took the Game of Thrones one, which was a fantastic combination of old Dubrovnik history, literary analysis of the books, and thorough filming location walk. If you can find Kresho, I highly recommend him!
The cable car to the top of Mount Srdj provides stunning views, with a little restaurant at the top that's a nice place to watch the sunset. Keep in mind the sun will set north of the mountain chain in the summer, so you'll still get the views but may not see the actual sun setting if you're visiting in summer months.
Quick picks for Dubrovnik:
Walk the City Walls
Explore the main street Stradun, but parallel streets have better food and handmade good options
Take a tour
Take a boat ride to the island of Lokrum
Cable car
Renata could not have been more amazing and the views from her rooms are spectacular over the harbor. I stayed in two of her three available listings. The top (3rd) floor was so cozy, that I actually spent most all of Easter Day inside justifying not going out thanks to the cold, windy weather and comfortableness of the place. It's so conveniently located, I found myself going back often just to go to the bathroom when exploring the town.
Driving D8 - the Adriatic Highway
This switchy, jaw-dropping stretch of road will take you along the coast through tiny villages all the way up to Slovenia if you wanted. There's one border crossing into Bosnia and Herzegovina just north of Dubrovnik. It's an intimidating border but really was no big deal. Have your passport handy and the documents your rental car agency gave you (though the agents never asked for those). The lines here can get long thanks to recent enhanced security, so plan to come through here early in the day. It took me 20 minutes but news reports were citing up to 2 hours in the afternoon.
Gas stations are frequently found along D8 and pay special attention to which side you're permitted to enter (gas stations here are directional) - Europe's fantastic blue "go in here" arrows will help.
The Peljasač peninsula:
A short and SO FUN drive north of Dubrovnik begins the Peljasač Peninsula. I recommend spending two nights here so that you can explore the Mljet National Park and also visit Korčula from Orebič, at the northern point of the peninsula. This area is a sleepy oyster and mussel region with tiny villages and historic walls. You can take pedestrian and car ferries to either Mljet or Korčula. Pay special attention to the ferry schedules as they change depending on the season. The Visitor Center in Ston gets daily updated information.
Visiting Mljet National Park requires a car, if you're going in the off-season. If you already have a car, then you may as well take it. It's a bit of a long bike ride from where the ferry drops you off to the National Park, though taxis are available in the high season.
Orebič has gorgeous beaches and a charming cafe scene. I recommend taking a day to drive up to Orebič, then taking the passenger ferry to Korčula. The Old Town here can all be seen on foot, but you can rent bicycles to peddle around the rest of the island. Taking a car to Korčula, particularly during the high season, if you're wanting to visit the Old Town would not be advised as parking is a nightmare.
Where to stay:
If you want to stay in the lap of Mediterranean luxury while also being a quaint fishing village of about 20 people, please do yourself right and stay with Stijeppo and Maya. Their top floor apartment was not only unbelievably economical but one of my most favorite places I've ever stayed. Exposed rafters and you can hear both the Bora wind and jackals howling at night. This is a great base station to visiting both Mljet and Orebič/Korčula.
Up to Split
I love, love to drive in foreign countries and the stretch between the Peljasač Peninsula blew every drive I've ever done out of the water. It makes the Pacific Coast Highway look like a back alley. Take your time to make this roughly 3 hour winding, gorgeous drive along the Adriatic. You can stop in any number of villages that you pass through for a coffee or lunch. You'll see the terrain change from dramatic sheer limestone cliffs to more gentle rolling valleys. As you get closer to Split, you'll see more fruit stands cropping up with that season's fresh picks.
Split
This was my favorite city of the entire trip. I recommend staying at least two days here, and three if you can. The Old Town of Split itself is gorgeous with a fantastic nightlife of trendy bars and outdoor wine seating areas with live music. Go up the Belltower during the day to have a panoramic view of the city, check out Diocletian's Basements, visit the fish market early in the morning, and the climb to the top of the mountain to the west of the city for a slightly challenging hike with great views! In fact, the whole park around the mountain is worth exploring by foot or bike. There are ancient Roman carvings and cathedrals hidden away on the faces of the hill.
From Split, you have a great opportunity to island hop! This is why I recommend spending at least two days here - a couple of days to check out Split leaving at least one full day to also go out to one or more of the islands. You will need your own car to explore the islands off the coast and while the round trip ferry rides aren't cheap (~$40 USD) they are absolutely worth it. Don't let the maps fool you - these islands are sizable and you can easily spend an entire day on one. I recommend…
Brač
A 30-40 minute ferry ride takes you to this incredible island that, while sparsely populated, has lots of interesting sea-side towns to explore. The geography and habitats here are completely different from what you'll see on the continent. As soon as you depart the ferry in Supetar - get out of there. There's a grocery store on the way out that you may want to stop at, but seriously get out of Supetar and head west to Sutivan. Perhaps one of the most beautiful cafes (they serve alcohol, too) is Palma there. Stop a while here.
When you're ready to head out, start your drive south to Ložišća. You'll be driving along the spine of the island getting a good sense for how huge it really is. There are some places to pull off and take in the sights of this eerily empty and old city. Head east then to Donji Humac to have lunch at Konoba Kopačina. Fresh lamb, huge portions.
From there, make your way south to Vidova Gora. Here the scenery becomes much more wooded and you'll take a meandering park road to the highest point in the Adriatics. During the high-season, the cafe here may be open. Depending on how much time you have, you can then drive down to the bizarre beach at Zlatni Rat.
From here, even with an early start, you are likely running out of time to catch an evening ferry back. You can either continue exploring east, or head north to Pučišća for the views and then head back along the northern road to Supetar on what I found to be the most fun driving road on the island.
Going to Zadar
No matter how I pronounced Zadar, no Croatian could understand me. I could never master the soft "d" plus "th" that the "d" in Zadar has. Good luck.
Bid a tearful farewell to beautiful Split and get an early start to take the Adriatic Highway north to Zadar. Stop in Trogir on the way, a UNESCO World Heritage site, for coffee or ice cream. It's pretty small and by this point, you've gotten a good fill of Old Towns. Viewing Trogir from across the water is a truly beautiful site.
As beautiful as you may find Trogir, prepare to have all concepts of beauty blown out of the water by Primošten. There are no words. Stop here and just look at it.
You're going to want to take that early start our of Split because you're making a stop in Skradin to take the ferry into Krka National Park. Everyone goes on about Plitvice Lakes but I actually found Krka to be more stunning. If you are going in the high season, you may want to spend the night here in Skradin so you can go immediately to Krka in the morning to beat the crowds. There are some hiking trails here, but I really enjoyed just sitting next to the main falls and having lunch.
From Skradin, you're just an hour from Zadar by highway or 1.5 hours on the scenic Adriatic Highway (do this).
Zadar
Honestly, Zadar is worth a stop but don't spend too much time here. The Old Town isn't that exceptional and it's overall the most grungy place you'll be in Croatia. However, according to Alfred Hitchcock, Zadar has the most beautiful sunset in the world. I saw two and one was definitely better than Key West, which also boasts the same claim. The Sea Organ and Sun Salutation light display are the only reasons I would recommend coming to Zadar. Stay for the sunset, listening to the organ, and stay till dark to experience the Sun Salutation. Then get out.
If you do insist on overstaying your welcome in Zadar, still get out and drive to the tiny medieval town of Nin. Nin is all about salt. Check it out then keep driving the largely empty roads to Vir. You will not regret the views from the most northwestern point of the island of Vir.
Then get out of Zadar.
Plitvice Lakes
You. Have. To. Get. Here. When. It. Opens.
Not 30 minutes or an hour after. Maybe 30 minutes to an hour before. Even when I went in the off-season, the tour buses of selfie-stick wielding menaces made parts of the walk unbearable.
Get up early and get out of Zadar and take one of the coolest (and brand new) highways north. You'll probably spend 4-6 hours here, so you can be done by early afternoon. As beautiful as it all is, you do start to get burned out on waterfalls at some point so don't feel like you have to spend the entire day. The park has a great website but I found the descriptions of the routes confusing. They call them "Visiting Programmes" and go by letters.
Mostly, "C" is recommended. You'll be marching up the falling lakes of waterfalls, as opposed to down. I think this is better because your views are more substantial. This takes 4-6 hours and even with my "look at every leaf and bug" pace, this seemed about right. Bring tennis shoes with a good grip. The boardwalks are just barely above the surface of the water and can be a little slippery.
Rastoke
The most unique place you can hope to stay is at the guesthouses at Slovin Unique.
There are only 3 cabins of varying sizes, so book early - I rented the Bungalow Vir, which is in its own private building of the original watermill house. I think this is a good way to wind down your visit to the Lakes and break up your drive to Zagreb. There are a number of other rental places in this area, but you'll find them to cater to families so the smallest houses sleep 15 people and are priced accordingly.
Slovin Unique has its own tavern and trout pond, plus a beautifully manicured grounds containing several waterfalls and a really great travertine cave system. You can easily spend a few hours outside your cabin just walking around, looking at the orchard and watching the sunset down a river fed by waterfalls and all while never leaving the property. Please order the trout, it's the best I've ever had and they literally fished it out minutes before it was presented to me.
Zagreb
Look, I've driven in some nuts cities all over the world and I did NOT enjoy driving in Zagreb one bit. I'll spare you the details but this is a great place to get rid of your car. Drop that thing off at the Zagreb airport and take the airport shuttle (really cheap and convenient) into the bus terminal inside Zagreb. You won't want or need a car in Zagreb.
However, before you ditch the ride, there are some fun day trips outside around Zagreb you can take. Check out pictures Varaždin and Trakošćan and pick ONE. No need to go to both. The scenery here is completely different than anything you've seen yet in Croatia and the drive alone is worth it. The forests look like something from a fairytale and the castle density only increases as you approach Slovenia.
After you've visited one of the above, finish your day trip off by driving down to Samobor for DESSERT. Samobor is a smallish village and find your way off the main drag to park for free. Walk into the center where huge patio cafes and restaurants abound. Here, a traditional Croatian kind of custard cake is made and here it is known for being the best in Croatia. Look for the cafe, Slastičarna.
Then take the short drive east to Zagreb for some potentially white-knuckled driving and get rid of the car.
Zagreb is an okay European city, I guess. It certainly is not the most beautiful city you'll see in Croatia but it does have some museums that cannot be missed.
You'll have an internal struggle visiting the Museum of Broken Relationships. You should absolutely go here but you'll need to go earlier in the day to beat the crowds. There are lots of objects here but the museum's footprint is small and gets over-crowded easily. The trouble is, the museum will probably rough you up emotionally so get that out of the way early and take some time to decompress.
Then head just across the street to the Museum of Naive Art.
Do not miss this! Check their hours, as they are government run and can close early if it's a holiday or if they feel like it or something.
Otherwise, Zagreb is great just for wandering. They have a fantastic, comprehensive, and cheap tram system but the city really isn't big enough to need it if you don't mind walking. A ticket to the top of the Zagreb Eye is good for all day. Go up and see the city during the day, then come back at night for a drink and see the city at night.
Where to stay:
Iva's apartments have their own parking (in case you insisted on keeping that car), laundry in the unit and looks straight out of an IKEA showroom. It's incredibly affordable and a very short walk to the main center of Zagreb.
Zagreb has very different weather than the rest of Croatia. It's colder, grayer, and rainier. While it was 80 degrees in Dubrovnik - and even at Plitvice - while I was there, it was in the 40s in Zagreb. The day after I left, it snowed for 4 days. Plan accordingly!
Fly back to Dubrovnik!
Complete your loop and keep your roundtrip flights cheap by taking an inexpensive and short flight from Zagreb back down to Dubrovnik. Staying with Renata, of course!
In summary, I went to Croatia not knowing very much at all about its geography, people or culture. I really went because it was the cheapest ticket I could get to go the furthest away. This trip wound up being the most fun I've ever planned for myself. It was remarkably easy to get around and everyone was overly kind to make my trip a success. I'd wholeheartedly recommend it for anyone - particularly solo travelers!
Enjoy!